I have a tendency to always want to make things. Recently, I've made a number of things, very many of which would likely be interesting to this audience. None of them have been written about. So, here's the first of a series of posts on recent projects.
This is the most recent project. My CZ clone, a Canik55 S120*, is a pretty nice gun, but came with unpleasant plastic grips that felt a bit off in the hand. I decided to do something about it.
More Prettified! I only grabbed the one sided picture. The other side looks similar, albeit with a slightly different grain orientation. Serial number blacked for hopefully obvious reasons.
The wood is Bubinga, also known as African rosewood. It's hard, takes to a varnish ridiculously well, and works reasonably well. The weird contour at the back where it doesn't quite reach the edge is actually the way the original grips were. Weird, but ah well.
Incidentally, 1911 grips are EASY. Nice, straight sides, a flat back, and a simple curvature. This critter is secured by a single screw and a lip that fits into the frame. Right pain in the rear to get everything aligned properly, particularly since, being on a college campus, I couldn't have the gun to hand for fitting. As such, the fit isn't quite what I'd like.
I'm already contemplating a mk 2 out of a lamination of purple heart and ash. For now though, the ugly plastic is no more! Well, once I get a few more coats of lacquer on at least.
ETA This is what the original grips looked like for those who are interested and don't want to google it yourselves. You're welcome!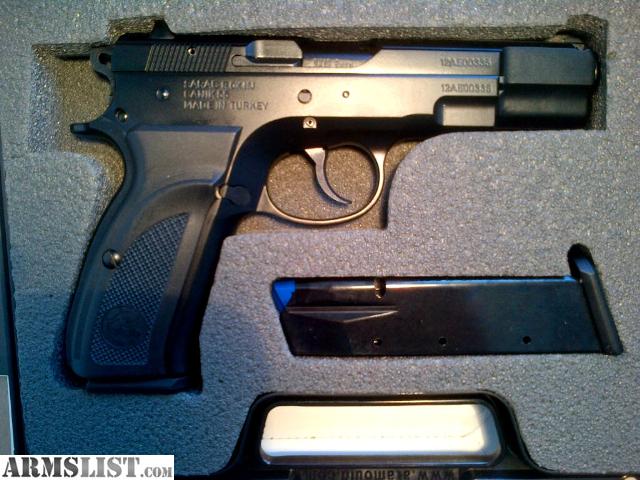 *I really like this gun. More accurate than I am, comfortable to shoot (all steel 9mm, who knew!?) and the only malf so far was absolutely ammo related. Story for another time. Maybe 250 rounds through it so far.